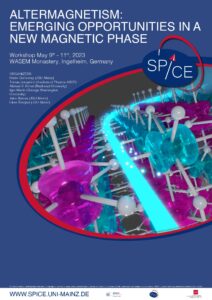 The SPICE workshop "Altermagnetism: Emerging Opportunities in a New Magnetic Phase" will be held from June 13th to 15th, 2023 at the historic WASEM winery, Ingelheim.
The workshop focuses on the emerging magnetic material class of altermagnets, that show compensated magnetic ordering and alternating spin-polarization in both the direct and momentum space, with a d-wave (or higher even-parity wave) symmetry. The novel properties of altermagnets have links to many fields of research, such as spintronics, ultra-fast photo-magnetism, neuromorphics, multiferroics, magnonics, topological matter, or superconductivity. The workshop brings together junior and senior scientists from diverse research fields to explore this fascinating newly discovered magnetic phase.
You can apply online for the workshop until April 1st, 2023.