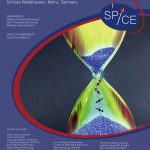 We welcome the participants of the SPICE Spin Dynamics in the Dirac Systems workshop .
The workshop offer a platform for the knowledge exchange between diverse novel condensed matter domains such as topological insulators and superconductors, Weyl physics, topological Josephson junctions, spintronics in graphene, spin valves, spin-logic devices, quantum magnetism, spin lattices, frustrated magnets, spin liquids, non-trivial spin states, etc.
We wish you all a very productive meeting!