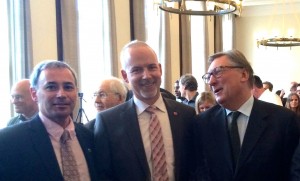 Yesterday, Prof. Dr. Georg Krausch, the president of Johannes Gutenberg-Universität and Prof. Dr. Jairo Sinova, director of SPICE, inaugurated the Spin Phenomena Interdisciplinary Center at the festive opening ceremony in the tradition-steeped hall of Atrium Maximum. After more than a year of getting settled and building up the Center, Sinova and his team now officially start tackling their mission.  In his speech, Sinova defined that mission as the advancement of spin related materials science by globally connecting nature, cultures and people.
The ambitious goal that Sinova has set for the next five years is to reduce the time span between scientific discoveries that require multiple disciplines. SPICE has set out to accomplish this by initiating and promoting the systematical interdisciplinary integration of complementary fields. Sinova particularly stressed his appreciation for the support this project receives from JGU, Rheinland-Pflanz and the Alexander von Humboldt Foundation. These ideal conditions, he said, enabled him to pursue this goal and to make a contribution to establishing Mainz as a magnet for international top scientists and as a globally renowned center of materials science. In his welcome speech, President Krausch pointed out the outstanding job the Ministry has done facilitating Sinova's transfer from Texas A&M to JGU and wished SPICE a good start and success for the realisation of its vision. It was an honour for Prof. Dr. Sinova and Prof. Dr. Krausch to welcome Dr. Hesse, the general secretary of the Humboldt Foundation and State Secretary Deufel from the Ministry of Science, Education and Culture of Rheinland-Pfalz. Both gave speeches expressing their esteem for Humboldt Professor Sinova and for JGU as a location of scientific excellence and wished the SPICE team all the best on their mission. Last but not least, Prof. Dr. Neubert, director of the MITP and coordinator of the PRISMA Cluster of Excellence announced plans for a synergetic collaboration between the MITP and SPICE. He pointed out the parallels between Sinova and himself. He too is a member of the Humboldt family, he too spent most of his career in the US and he shares the enthusiasm for teamwork and networking, Sinova appealed to when he said:
"It is together that we can globally connect nature, cultures, and people. It is together that we can make Mainz and Germany a magnet for the top dynamic scientists in the world. It is together that we can move minds and cross boundaries."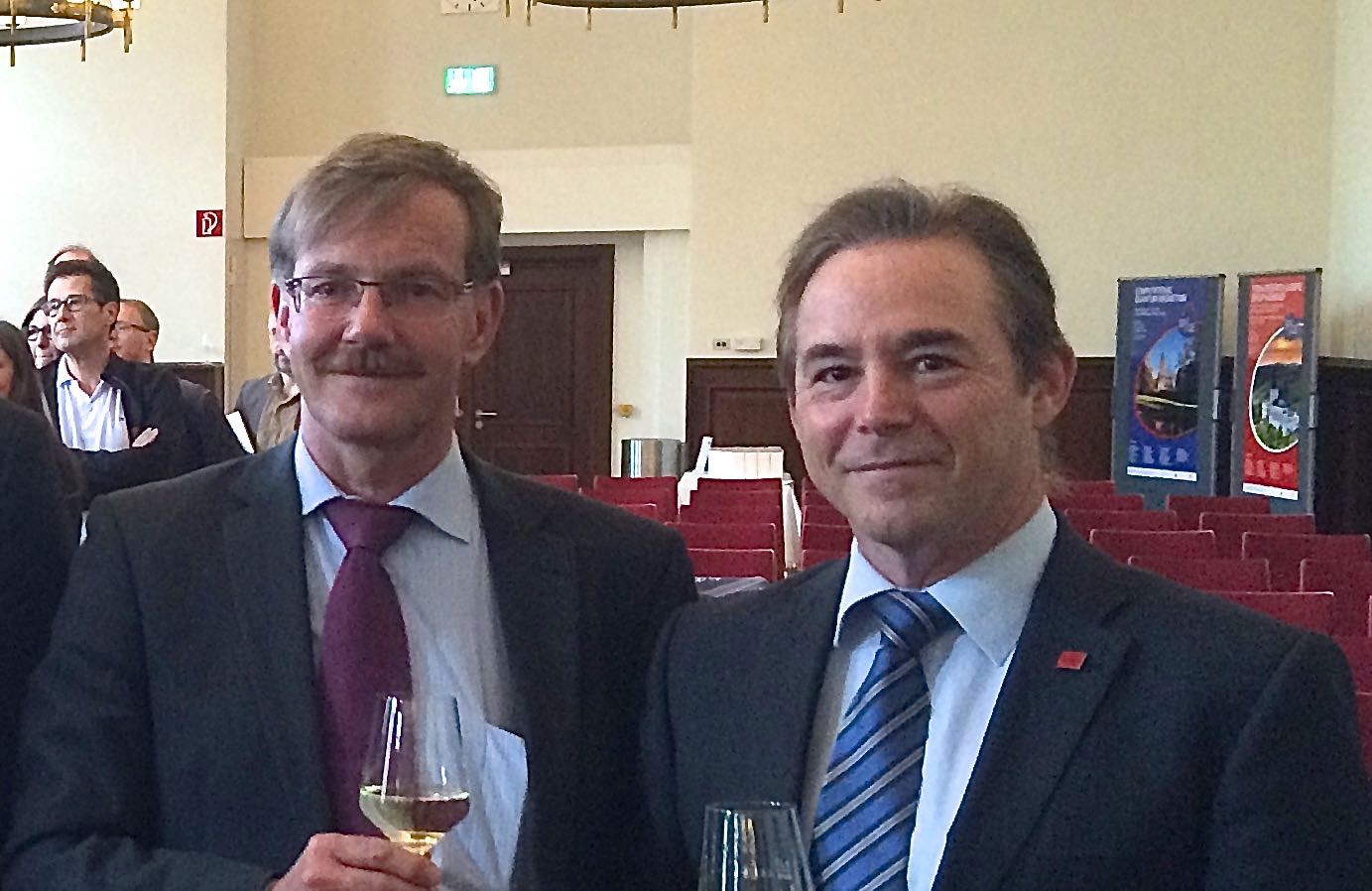 Sinova's speech in German 
View the JGU press release.